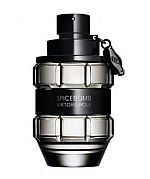 Viktor & Rolf, known mostly for their prowess in the fashion world, have added another cologne to their repertoire – Spicebomb. This amazing mixture of notes include bergamot, pink pepper, cinnamon, vetiver, red pepper and tobacco accord. I've worn this cologne off and on for the past few weeks and I must say that it definitely lives up to it's name. So with a whole lot of spice in each spray, a little bit goes a long way!
Keep in mind that everyone should have at least one spice fragrance in their arsenal… Ok, so I just made that up! But, if you're looking for one- Spicebomb should definitely be considered.
Depending on the person, Spicebomb can successfully be worn day and night. However, for me it worked best in the evening.
So give it a try, I know you'll love it!
[xrr rating=4.75/5]