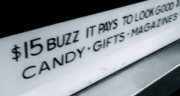 I get questions from readers all the time asking me "what haircut is best for each season?" So, since it is officially summer, it's pretty safe to assume that I've received a few questions about "what summertime haircut is best?"
The truth is, there really isn't "a best" haircut for the summer at all!  Simply because, not all haircuts are designed to work for every man.  But, I can tell you that the most popular haircut worn and requested during the summer, is the "Buzz Cut", (a low haircut that is the same length all over).
You may have also heard it referred to as a… Buzz, Dark Ceasar, Shadow Ceasar, #2 all over… Regardless of the name, the only true differences are in the length, and the texture of the hair. And, at the end of the day it's a low haircut that's "low maintenance".
So, since the weather is a bit warmer why not give it a try! It will certainly allow you to enjoy the warmer days and the upkeep?… There really is none!