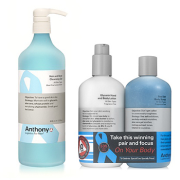 Yes the month of September is over, but that doesn't mean that the search for the cure is! Every year during the month of September companies and organizations around the country take up the mission of raising funds for research in finding a cure for prostate cancer.
One company in particular is the men's grooming line Anthony Logistics for Men.
For 10 years, all products under the Anthony Logistics for Men umbrella have sported a blue ribbon for Prostate Cancer Awareness, and a percentage of all proceeds are donated to not-for-profit public charities dedicated to increasing awareness of Prostate Cancer.
And to further help with the cause, from Oct. 1oth to Oct. 16th, customers who shop on Anthony.com can also purchase the brand's top 10 products for only $10 each.  Not a bad way to help the cause..!
*Visit the Prostate Cancer Foundation and ZeroCancer.org for more ways to get involved!