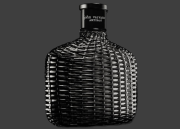 Well, it could be. Better yet, it should be!
Anyone who knows me, knows that this isn't a fragrance I commonly would wear… Sephora calls my preferred choice of cologne's notes to be "Woody Oriental" (i.e. Hanae Mori or BLV Notte Pour Homme). But a birthday gift should always be used, right…?  Thanks sis!
Either way, it won me over!
Artisan Black by John Varvatos, has only been available since March of this year. But, it certainly has placed itself in the position to be a long lasting fragrance on the market. Its subtle fragrance can be paired well with shorts and a t-shirt or slacks and a dress shirt, making it ideal for the minimalist in all of us!
Priced just under $80 for 4.2 oz. makes it a grooming investment I admit, but isn't your birthday coming up too?
[xrr rating=4.5/5]