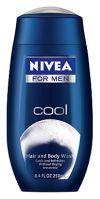 You know, it wasn't that long ago that women were the only ones that considered using a body wash.  Now with the boom in the men's grooming market, they are showing up in department stores and local drugstores vying for the same attention from men!
So I decided to try out a few, to see what makes them so different from regular bath soap…
And, I was pleasantly surprised! Not only do they clean well, but they also give your body a full coat of moisture that no bar of soap can accomplish.
My running favorite so far…?
Cool, Hair and Body Wash by Nivea for Men
5 Reasons Why…
Scent – it has a great scent that freshens you, and the bathroom, but manages to not overpower your cologne.
Ingredients – contains Menthol, an active ingredient that awakens the skin while you shower, nice!
Result – leaves your body feeling clean and your skin extremely moisturized. It almost makes you second guess a body moisturizer!
2-in-1 – for those guys that are always in a rush, the same bottle takes care of both the hair and the body!
Price – coming in at about the same cost of most soap bars, less than $5, it's within a great price point to convince a man to at least give it a try… Great job!
[xrr rating=4.5/5]