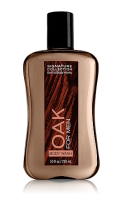 I've never been a fan of men's grooming products that dictate how I am going to smell, unless it's my cologne of choice! However, I must say that Bath & Body Works® Signature Collection for Men is truthfully my first exception.
In an extremely difficult, but wonderfully scented selection process, the Oak Body Wash (above) earned the crown for the year 2010. The soft subtle blend of red oak, cedarwood & musk gives off a very manly fragrance without going overboard. Not to mention, the rich lather it produces with just a small amount.
This will be an excellent addition to your shower, and it will definitely compliment your new Japanese Exfoliating Bath Towel (See Post: The 2010 Must Have Grooming Tool).