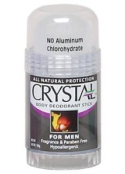 Who said that you have to use the deodorants that are marketed to you after every NFL timeout? I know I don't…
Why not try a deodorant that is touted as one of the safest deodorants on the market?
Crystal Body Deodorant for Men. It's unscented, hypoallergenic, paraben free, alcohol-free, non-sticky, non-staining, fast drying… the list goes on and on!
The four most impressive aspects of this deodorant are:
(1) Aluminum chlorohydrate free – one of the most common active ingredients in commercial antiperspirants that has been linked to Alzheimer's disease and breast cancer, and this one has zero of it!
(2) Lasts forever! – Well, up to about a year… This could be the reason for their limited TV marketing presence, but I think that we're ultimately the winners in this situation!
(3) Ammonium Alum – the active ingredient; is used in water purification, as an astringent, and in baking powder. It occurs in nature and is nontoxic.
(4) It Works! – I'm a very active person, and for the past 6 months I honestly have never been let down.