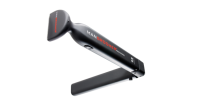 Now this is a tool the guy pictured in this article (See Post: The hair you don't want!) could use… or maybe he did!? Either way, MANGROOMER definitely filled a need when they came up with this back shaver!
Picture a trimmer blade attached to a handle that's angled just right (up to 135°), and where the handle can extend to span a back up to 23 inches in length, giving maximum coverage. The blades comfortably travel across your back with ease, with no fear of the blades getting too close to create any irritation or burn.
Fairly priced at $50, it's a worth-while buy for anyone that wants to get rid of excess hair on the back and even the chest!
Click to see video ad ~> HERE
[xrr rating=4.25/5]